You will have no doubt by now heard the horrific news on the Manchester dogs home fire, where a 15 year old boy is being held on an arson probe following the death of an estimated 53 dogs.
Yesterday evening, around 7pm, the boy deliberately sparked a blaze at the shelter, which engulfed the kennels, collapsed part of the roof and gutted a third of the complex – horrifically, the key area where the majority of dogs were housed. Not a single one of the 200 dogs living in the shelter have escaped unharmed. Of the survivors, most are suffering burns and smoke inhalation. Local people have reported hearing the devastating yelps of the dogs as the fire ripped through their kennels; the sheer terror these poor animals will have experienced is incomprehensible.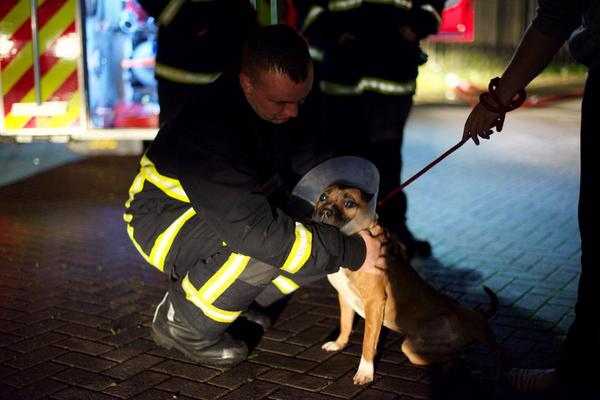 Manchester Police managed to save 150 dogs from the blaze, and has urged for people to remain calm. Supt Marcus Noden says, "We are in the very early stages of the investigation and have a young boy in custody, however we would ask if anyone was in the area and remembers seeing anything suspicious around the dogs' home that they call police. As a dog owner myself, I understand many people will feel angry and upset, but I would ask that they let the police carry out their investigations and not take matters into their own hands."
Easier said than done when you think of the unbelievable pain and suffering these poor creatures, many of whom will have had pretty horrible lives up until this, were forced to endure all because of some little moron with a firelighter. At times like this it's so difficult to wrap your head around how this situation could possibly have occurred, and what could ever possess a 15 year old boy to take such drastic, irreversible action on defenseless, harmless animals like this.
Sadly, the punishments for cruelty to animals in the UK remain pathetically low. The fact he has been charged with arson alone is simply another testament to how helpless we are within our existing legislation to protect our four legged friends. In the UK, even for more direct, violent acts of cruelty or severe neglect such as stabbing a cat or allowing a dog to starve to death, the maximum prison sentence available to magistrates under the Animal Welfare Act is only six months' imprisonment. Yet of course, reduced sentences for pleading guilty and good behaviour mean offenders rarely serve even this measly amount. It is truly pitiful that a calculated, sustained attack on a scale such as this can be carried out in the middle of Manchester and the boy gets carted off and given a slap on the wrist for playing with fire. You have to wonder when the UK is finally going to realise that its total lack of legislative deterrents, or appropriate enforcement of maximum sentences for carrying out barbaric acts like this, mean the fear of being caught or held accountable to these people simply doesn't exist. Acts like this will be carried out again and again and again, and we'll learn nothing. These are not the dark ages and in theory at least, we live in a civilised, developed country. Let's start acting like it and show enough is enough – we need to use the 'anger and upset' we're being asked to contain, and start effecting real change for our beloved animals up and down the UK.
There are various ways you can show your support for these poor dogs and so many more like them:
Take the RSPCA's survey examining public attitudes to flimsy animal cruelty laws: https://www.surveymonkey.com/survey-thanks/?sm=K894evTfwKn6I%2bm2goWH6rJ3Fu23cnS4smwyrQ7CaRo%3d
Donate to the Manchester dogs fire appeal: https://www.justgiving.com/ManchesterDogsHomeMEN
Sign the e-petition to increase the maximum sentence for animal cruelty in the UK: http://epetitions.direct.gov.uk/petitions/61926
Related post: https://catdraggedin.co.uk/2014/08/18/rspca-campaign-survey-should-uk-have-harsher-sentencing-for-cruelty-cases/
 –          –          –           –          –          –           –          –          –           –          –          –
 Do you have an opinion on this post? Anything you'd like to share?
Just click the heart icon on the top left of this blog post to leave your comments.